---
Posted by Dan Wright on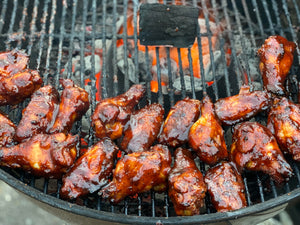 Wright BBQ Peach Chipotle Wings Be the MVP of your gathering with our Peach Chipotle Wing Recipe Ingredients: 1/4 Cup Peach Chipotle BBQ Sauce  1/4 Cup Squeeze Margarine 1/4 Cup Wright Rub All Purpose 1/4 Cup Wright Rub Beef Lovers Blend Peach Chipotle Sauce for glazing Place raw wings in a bowl, add 1/4 Cup of Peach Chipotle BBQ Sauce and Squeeze Margarine. Toss to evenly coat all wings.  Mix together the All Purpose and Beef Lovers Blend in a separate bowl. Once mixed season wings to taste.  Place wings on grill over indirect heat or in oven at 350...
---
Posted by Dan Wright on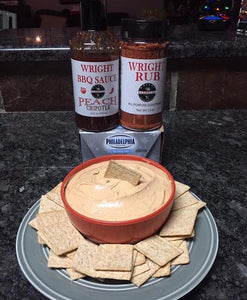 Wright BBQ Dip is the perfect complement to any party tray or for your own snack!